Since our inception in 2017, we have always been and will always be a remote only organization.
We believe happy people create exciting work, and how much happier can we get then when we're safe at home with our loved ones. While we feel there are many advantages to working from home, one of our favorite perks is working alongside our trusty pet companions. Over the years, there have been a few new team members – some human, some canine, some feline. Meet the WFH animal co-workers!

Meet Xerox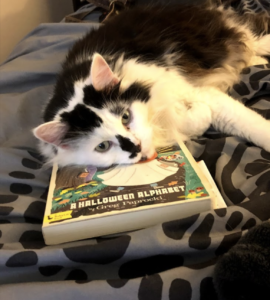 Title: Senior Napper, since 2019.
WFH Co-Worker to: Jennifer Johnson, Digital Marketing Director 
Hobbies: Napping, napping in places that don't make sense, snoring, being fluffy.
"My mom and I have a really great working relationship, in which she does the work, and I nap. I am 16 years old and I mean business. And by business, I mean that I expect a minimum of 5 naps per day. I love napping-from-home with Digital Mountaineers because I have a dependable team of fellow animal co-workers. They just get it. It's not easy to emotionally support the humans, but someone's got to do it." -Xerox
Meet Charlie


Title: Treat Manager, since 2020.
WFH Co-Worker to: Natalie Camunas, Social Media & Web Content Manager
Hobbies: Long walks, basking in the sun, chasing squirrels, enforcing a strict 8pm bedtime
"My mother started working at Digital Mountaineers in 2020 and let me tell you, boy do I love having her home while she works. I get to supervise and make sure that breakfast is served promptly, treats are handed out in a generous fashion, and I get to tell her when a squirrel passes by the window. It's been such a dream working alongside my mother from home. I used to work 9-5pm at an office and let me tell you, I don't miss it! Happy to be here with this gaggle of pals." -Charlie AKA Chuck
Meet Lincoln


Title: CEO of Fun, since 2017.
WFH Co-Worker to: Jordan Zarate, CEO/Founder
Hobbies: Romping, making friends with my big smile, scaring them away with my big bark, holding paws with my human.
"Oh how I love working here with my Pops! I love lots of things; treats, playing outside, playing inside, even playing in my dreams. When we're working during the day, I like holding paws with my human so that he knows I'm just right next to him in case he needs a cuddle. I love our team here at Digital Mountaineers. We're all different, but we work hard, and play even harder!" -Lincoln
Our "office life" looks a little different and we wouldn't have it any other way. All are welcome here! We are blessed to have the love of our pets surrounding us while we create beautiful websites for deserving Positive Impact Organizations. 
Interested in working with us? Visit our Career Page for more details.