We are pleased to announce the launch of the brand new website we designed and developed for the New Jersey Immunization Network.
The New Jersey Immunization Network (NJIN) is a statewide coalition of over 400 individuals representing 180 organizations. They are jointly co-founded and led by the New Jersey Chapter, American Academy of Pediatrics (NJAAP) and the New Jersey Academy of Family Physicians (NJAFP).
The mission of the Network is to protect the health of all individuals through timely, age-appropriate immunization against vaccine preventable diseases by educating the public, healthcare professionals, and policy makers about vaccine safety and benefits.
We are grateful NJIN selected Digital Mountaineers to create the new & improved look of their new website. We know the importance of Positive Impact Organizations like NJIN and the immense value they provide in keeping their communities safe.

New Jersey Immunization Network – Website Needs
It was of the utmost importance to NJIN that their website feels easy to navigate and makes answers to important vaccination questions for their community accessible for all. They want to ensure a new visitor could find what they need, efficiently. As an agency, it is important for us to make the website experience easily navigable for the NJIN team as well! We provide full training so their team can makes updates as necessary, but we also offer a maintenance agreement in which we take care of the big stuff so NJIN can focus on caring for their communities.
Our Process
As with all of our website design clients, we provide high fidelity mockups so you can get a feel for what the website will look like. This is the fun collaboration process where the new site is born. Once the designs are approved, our team builds your custom website from scratch and we make sure that the site is mobile-responsive. 
All of the functions you need for your organization are possible. For NJIN's site, we integrated Email Marketing, Donor Forms, Social Media, Calendar, and Google Translate. Functionality is built in for Site Search, Job Listing, Blogs, Social Sharing, and Contact Forms. We set you up with Website Analytics like Google Analytics and Facebook Pixel, while integrating Google Tag Manager for ultimate ease of management. In addition, we configure the hosting environment, including SSL Certificate, daily backup and unlimited bandwidth and storage. 
Prior to launch, there is significant User Acceptance Testing of the site, completed prior to launch in a staged environment, to make sure that all functionality is running as intended. Our team and NJIN's team were able to make edits and changes at this time.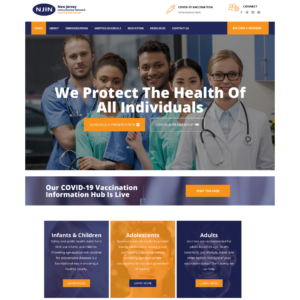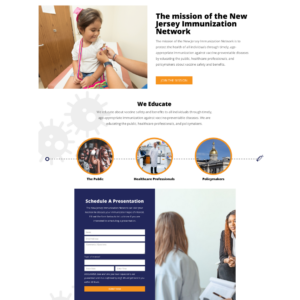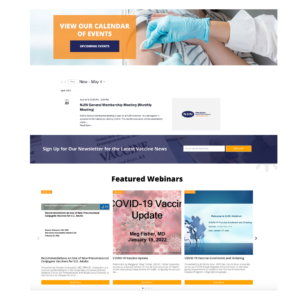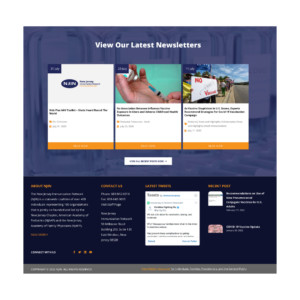 We are proud to be a creative partner for NJIN. Thank you for all the hard work you do and for keeping New Jersey safe. Visit their new website here.  
Is your Positive Impact Organization in need of a new website? Click here to schedule a chat with us. We're happy to help!